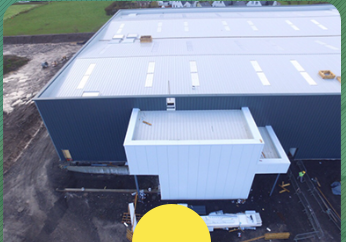 PVC Wall Cladding and Roofing Services
Our PVC wall cladding service provides businesses with a cost-effective and durable solution for their domestic, farm, industrial or commercial buildings. Our team of experienced professionals has years of expertise in the industry, delivering high-quality PVC cladding solutions that meet our clients' unique requirements.
We work with a variety of PVC materials, including hygienic and fire-rated panels, to provide customized cladding solutions for buildings of all shapes and sizes. Our team will work closely with you to assess your building's unique requirements and develop a comprehensive plan that meets your aesthetic and functional goals.
PVC Wall Cladding and roofing services include:
Our PVC wall cladding services include everything from design and installation to ongoing maintenance and repair. We use only the highest quality materials and techniques to ensure that our cladding solutions are long-lasting and durable, protecting your building from the elements and enhancing its appearance for years to come.
Whether you're looking to update the interior of an existing building or create a new hygienic and easy-to-clean environment, our team of experts can help. We pride ourselves on delivering exceptional results that exceed our clients' expectations, no matter how complex or challenging the project may be.
If you're looking for a reliable and experienced PVC wall cladding service, look no further than our team at Aidan Sheridan Roofing. Contact us today to learn more about our services and how we can help you improve the appearance and durability of your domestic, farm industrial or commercial building.