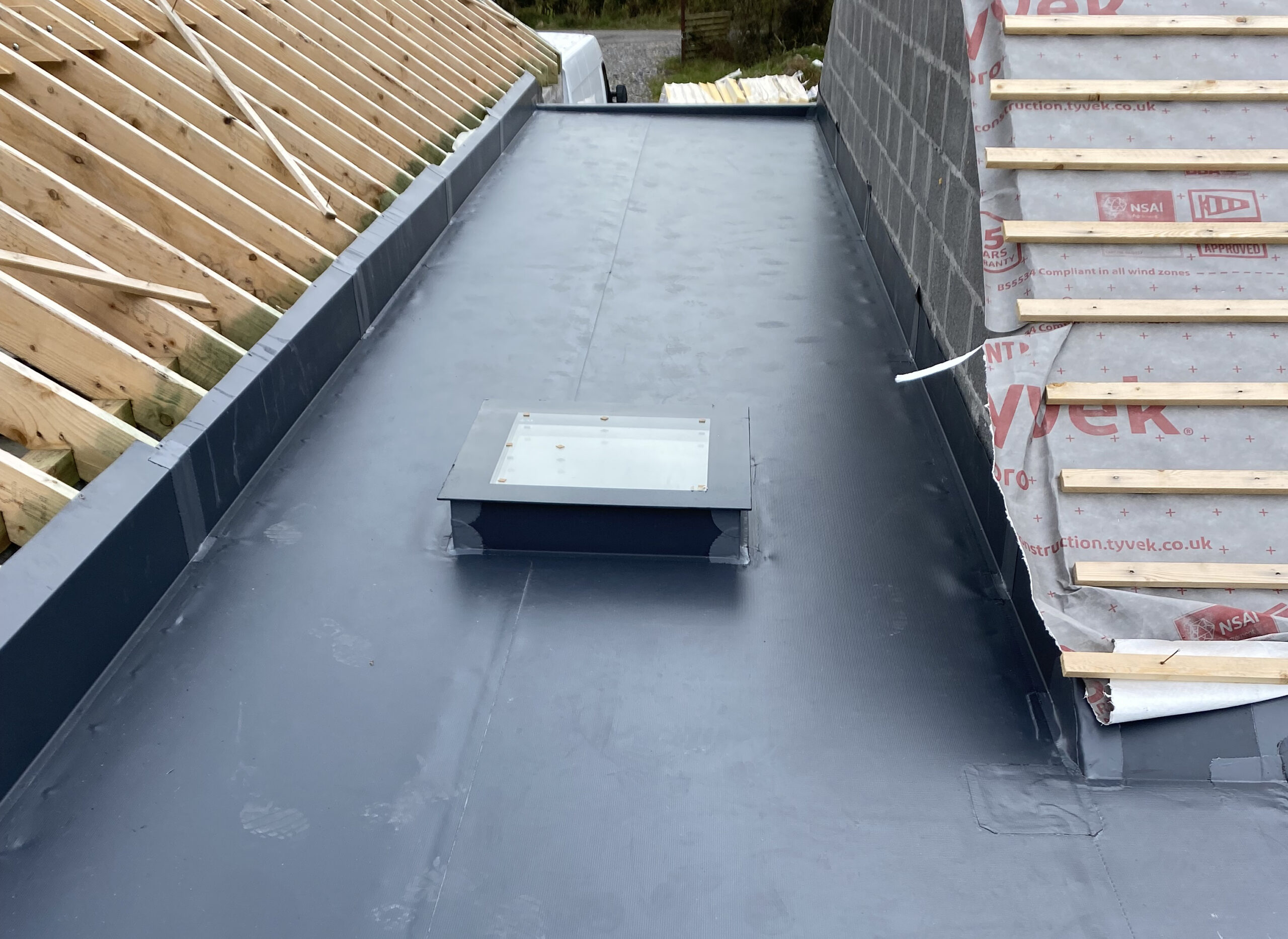 We are firmly committed to the continued development and distribution of premium quality products to the Irish Construction Industry. We use predominantly Fatra roofing membrane for flat roofs which provides environmentally sustainable building solutions and is renowned for its innovative, dynamic products designed to meet the needs of builders and project specifiers alike.
Fatra Single Ply Roofing Membranes are a flexible, lightweight and cost-effective waterproofing solution. The
product
enjoys an established track record across the residential and commercial market. It offers a certified life expectancy of over 30 years (accredited by the British Board of Agreement (BBA).
Unleash the Potential of Your Property with Aiden Sheridan Roofing's Flat Roof Construction Services
Welcome to the realm of innovative roofing solutions at Aiden Sheridan Roofing. With us, quality, excellence, and customer satisfaction are more than just buzzwords. We specialize in offering premium flat roof construction services and PVC flat roofing systems in Ireland, ensuring that your property's rooftop is not just a structure but a testament to durability and elegance.
Flat Roof Construction: Combining Functionality and Modern Design
Flat roofs are not just a practical choice but also a versatile addition to any property. At Aiden Sheridan Roofing, our flat roof construction services are designed to bring you the perfect balance of utility, design, and longevity. Our team of experienced professionals is adept at delivering flat roofing solutions that meet the highest standards of quality and durability.
PVC Flat Roofing Systems: Experience Superior Durability
When it comes to flat roofing, choosing the right material can make all the difference. That's where our PVC flat roofing systems come into play. Known for their resilience and longevity, PVC roofs offer a host of benefits, including exceptional weather resistance, energy efficiency, and low maintenance needs.
At Aiden Sheridan Roofing, we believe in combining the best of technology with the finest materials to deliver robust and reliable roofing solutions. Our PVC flat roofing systems are designed to withstand Ireland's diverse weather conditions while providing a sleek and modern finish to your property.
Discover a world of top-tier roofing solutions with us. From initial consultation to final execution, we strive to ensure that your journey with us is seamless and satisfactory. Embark on your flat roof construction project with Aiden Sheridan Roofing today, and experience the perfect blend of quality, design, and durability.