EXTERIOR WALL CLADDING SERVICES
Home, Farm & Business Exterior Wall Cladding
Our exterior wall cladding service provides homes, farms & businesses with a cost-effective solution for improving the appearance and durability of their home, commercial & outdoor buildings. Our team of experienced professionals has years of expertise in the industry, delivering high-quality cladding solutions that meet our clients' unique requirements.
We work with a variety of materials to provide customized cladding solutions for commercial & agricultural buildings of all shapes and sizes. Our team will work closely with you to assess your building's unique requirements and develop a comprehensive plan that meets your aesthetic and functional goals.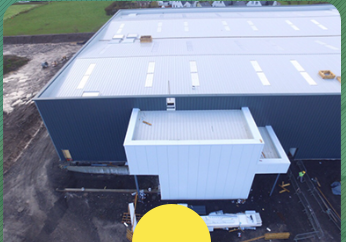 Our full range of cladding and roofing services include:
Expert External / Exterior Wall Cladding Service
Our exterior wall cladding services include everything from design and installation to ongoing maintenance and repair. We use only the highest quality materials and techniques to ensure that our cladding solutions are long-lasting and durable, protecting your building from the elements and enhancing its appearance for years to come.
Whether you're looking to update the exterior of an existing building or create a striking new look for a new construction project, our team of experts can help. We pride ourselves on delivering exceptional results that exceed our clients' expectations, no matter how complex or challenging the project may be.
In addition to our cladding services, we also offer a range of related services to ensure that your building is fully protected and looks its best at all times. Learn more about our other services, such as roof maintenance services, shed cladding, roofing services, guttering services, and fascia and soffit installation.
If you're looking for a reliable and experienced exterior wall cladding service, look no further than our team. Contact us today to learn more about our services and how we can help you improve the appearance and durability of your commercial building.
Benefits of Exterior Wall Cladding
Enhanced Aesthetic Appeal
With a wide variety of styles, colours, and textures available, external wall cladding can significantly enhance the overall aesthetic appeal of your building. Choose from a plethora of designs to give your building a unique look that stands out.
Superior Protection
Wall cladding acts as a robust protective barrier against the harsh Irish weather, safeguarding your property from damage caused by rain, wind, and temperature fluctuations. This additional layer of protection can significantly prolong the life of your building.
Improved Insulation
Apart from shielding your home from the elements, wall cladding also improves thermal insulation. This can help keep your home warm during winter, cool during summer, and potentially reduce energy costs.
Our External Wall Cladding Services
Assessment and Consultation
Our expert team begins by conducting a thorough on-site inspection to understand your specific needs and preferences. We then provide professional advice on the most suitable types of cladding materials and design options for your property.
Installation
We employ highly skilled and experienced tradespeople who carry out the installation process with precision and efficiency. We use the latest technology and equipment to ensure that the wall cladding is installed correctly and securely.
Maintenance
Even the best-installed cladding can benefit from regular check-ups and maintenance. Aiden Sheridan Roofing offers maintenance services to keep your cladding in perfect shape for years to come.